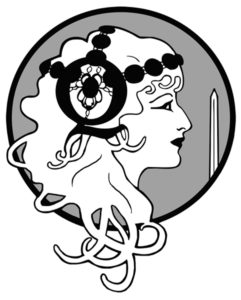 Novels and Minis: we are currently closed to submissions; please check back in early 2021 and/or subscribe to our newsletter so you get the latest.
Query with novel synopsis and first three chapters in standard manuscript format.
Full manuscripts only upon request. Seriously. We'll tell you if we want to see the whole thing.
Query for Minis – these are either linked short stories, set in the same fantastical world, with characters that appear in all the stories, or novella length manuscripts, of around 40k words. See The Voyages of Cinrak the Dapper and Unfinished Business for examples. To query for these, please send a synopsis. Reading period is the same as noted above. Full manuscript only upon request.
Submissions email: submissions@queenofswordspress.com. Please use this email for any questions as well as submissions.
Things to be aware of: We are a very small press and cannot pay advances at this time. No, this is not currently open to discussion. We do pay royalties on books sold on a quarterly basis.
Things we would like to read:
LGBTQ+ and/or POC and/or older female and/or nonbinary/genderqueer protagonists having adventures in fantastical or science fictional settings with historical elements. (We like swords and think people who use them well are cool and more coordinated than we generally are.)
Mannerpunk/comedy of manners fantasy or science fiction (bonus points if they are set somewhere other than Europe).
Historical fantasies or science fiction with historical elements (bonus points if not set in fantastical Europe).
Gothic ghost stories.
Mysteries with science fictional or fantastical elements.
Weird westerns/steampunk (bonus points if not set in Victorian England).
Things that are not a great fit for us at this time:
Romances without fantastical content. Pure romances are going to be a hard sell, even with fantastical content.  Also not interested in YA, Middle Grade, children's books, literary fiction, nonfiction, mysteries without fantastical content, grimdark fantasies about "blokes in cloaks," hard science fiction, erotica, poetry and probably other things that we will think of later.
Things we never want to read again/or ever:
Rape and/or abuse as character motivation.
Tragic queers who exist only to motivate straight characters, red-shirted characters of color, female characters who exist to be props and/or hero motivation, egregious stereotypes.
Graphic horror/serial killers.
If you have a question about whether or not we might want to see your synopsis, feel free to ask. Do not self-reject. Authors of color and international authors encouraged to submit!
Sample contract available upon request.