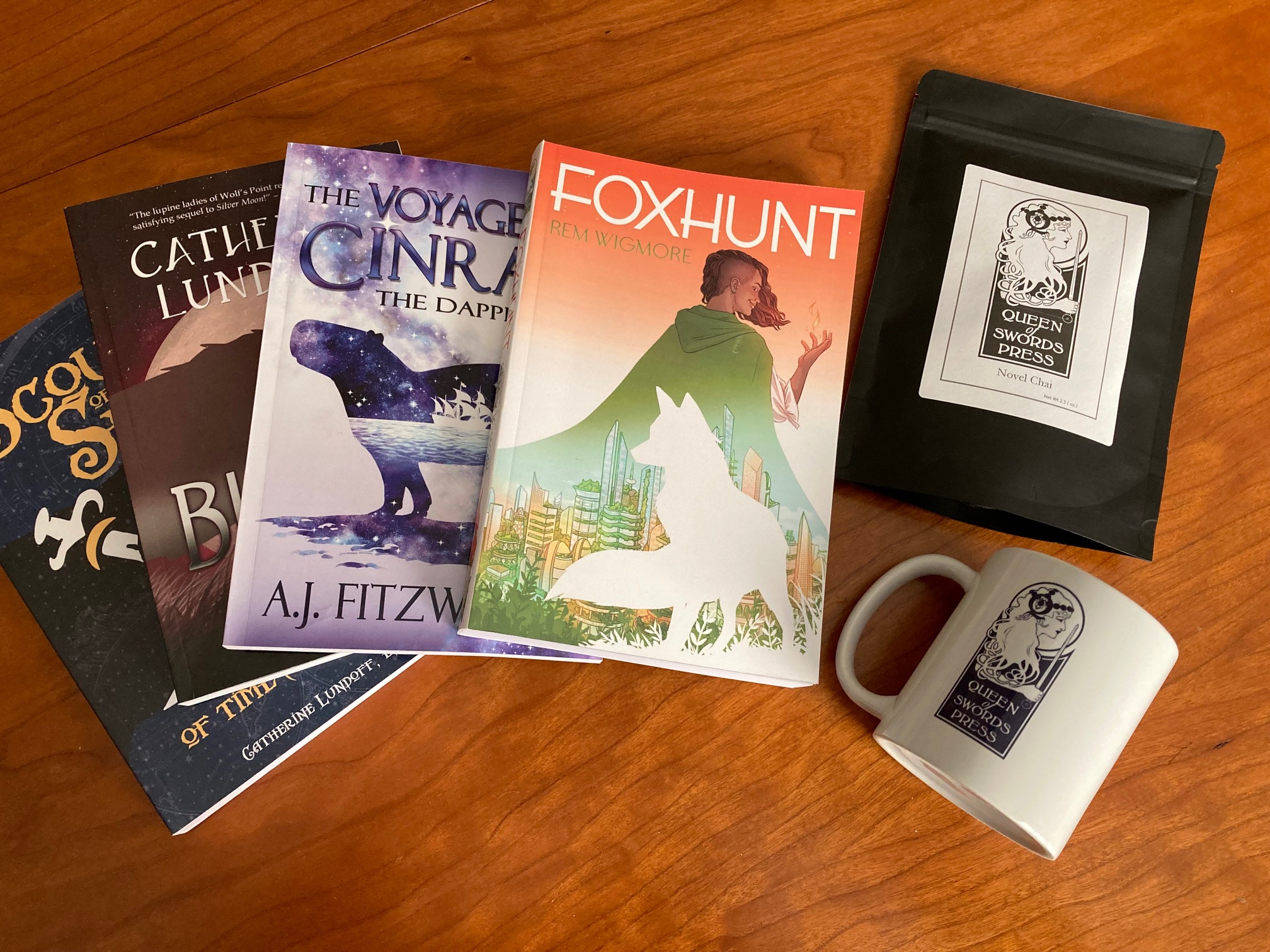 Queen of Swords Press Newsletter – December, 2021
Wishing all of you a safe and happy holiday season! May 2022 bring good things our way!
News
DisCon III – December 15th-19th, Washington, D.C. We've applied for (and expect to get) a virtual Dealer's Room table and Alex Acks and Jennie Goloboy are on programming. Alex is up for a Hugo Award as part of the Skiffy and Fanty Podcast crew, and artist Laya Rose, who created the cover for Foxhunt, is up in the Best Fan Artist category. Best of luck to them both!
AZ Gallery/Books and Beer Pop-Up Bookstore – December 18th, 12-5 PM, St. Paul. Catherine Lundoff will be there with some selected titles.
Stay tuned for the Smashwords End of Year Sale between Christmas and New Year's for some great deals on our ebooks!
Good luck, Laya!
News About Our Authors:
Jennie Goloboy:
Magers & Quinn Booksellers – December 8th, 7 PM, Minneapolis. Jennie will be on a virtual science fiction panel with authors A.J. Hackwith, John Appel and Amber Bird. Follow the link to register.
Jennie did a reading from Obviously, Aliens at Strong Women, Strange Worlds, which you can watch back on YouTube. Jennie will also be participating in the Strong Women, Strange Worlds Year-End Holiday Extravaganza on December 12th.
Obviously, Aliens got a nice review at Hugo Award-nominated blog, Nerds of a Feather, from reviewer Paul Weimer, who is up for two Hugos this year.
"
Obviously, Aliens
will keep a smile on your face." – Paul Weimer
Catherine Lundoff:
Big News! Catherine has accepted an invitation to be the Author Guest of Honor at MarsCon 2022 in Minneapolis! MarsCon will be happening March 11th-13th, 2022 and, plague permitting, will be in person. More bulletins as we have them.
Minnesota Women's Art Festival – December 11th, 9:30-4:30, St. Mary's University, Minneapolis. Catherine Lundoff will be sharing a table with book artist Jana Pullman. Locals can pick up their gift package orders here too!
Catherine has a new article up at DreamFoundry – "Crafting an Anthology."
Rem Wigmore:
Rem was interviewed on The WROTE Podcast.
And Rem appeared at EnQueer, Australia's first queer lit festival!
Foxhunt was a Runner Up for Best Transgender Speculative Fiction and Best Transgender Book in the 2021 Rainbow Awards!
AJ Fitzwater:
The Voyages of Cinrak the Dapper was a Runner Up in the Rainbow Awards under LGBTA Anthology/Collection and Best Lesbian Book! Congrats, AJ!
Queen of Swords Press is supported by Catherine Lundoff's Patreon (Read a serialized novel in progress! Get entered to win free books!) and our Ko-fi account, if you'd like to send a little more love our way. Many thanks to our awesome patrons!
Our titles are all available in print as well as ebook (except Knife's Edge and Desire which are ebook only). Check our website for available formats and remember that your library or cool local indie bookstore can order our titles in, if they don't already have them.
If you have enjoyed any of our titles and haven't already done so, please post a review on the site where you purchased it, Goodreads, your social media, etc.! They are much needed and appreciated. Many thanks to those of you who've reviewed our titles so far!