Description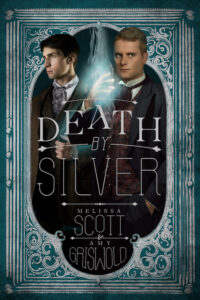 Mystery, Murder and Magic…
Lambda Literary Award winner back in print! We're releasing new editions of Melissa Scott and Amy Griswold's terrific gay Edwardian fantastical mystery duology with wonderful new covers by artist Matthew Bright! Death by Silver will be out on 4/13 (and you can preorder it now) and A Death at the Dionysus Club will be out in December.
When an old schoolmate with a well-earned reputation for bullying hires metaphysician Ned Mathey to investigate his father's murder, Ned turns to his friend and sometime lover, detective Julian Lynes, for help. Together, they must navigate a maze of deceit, danger, the pain of their past and a newfound chance to rekindle their relationship in an Edwardian London where magic is woven into the fabric of their daily lives. Can they solve the mystery at the heart of the first murder and the ones that follow to forge a new kind of partnership or will the pain of the past and society's disapproval send them off on separate paths?
Read Melissa and Amy's "Big Idea" post on Whatever here.
Check out a great interview with Melissa on the Odyssey Writing Workshop blog and learn more about Amy's work for Choice of Games here.